---
Grad Slam is a campus-wide competition for the best 3-minute graduate student presentation of a research or creative project. It is an excellent opportunity for students to enhance their communication skills and is an effective way of showcasing to the UArizona community and the public the innovative research and creative work associated with graduate education at the University of Arizona.
All disciplines are encouraged to participate. And did we mention that presenters could win an award of $3,000?
Use the links below to learn more about the competition.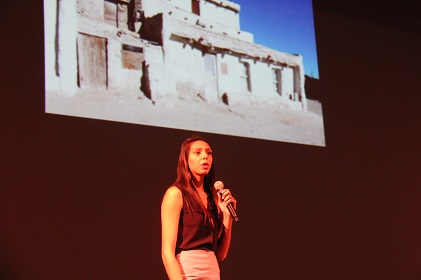 Grad Slam is hosted by the Graduate College's Graduate Center, and the Graduate and Professional Student Council.
Grad Slam is sponsored by the Office of Research Innovation and Impact, the College of Science, the Arizona Institutes for Resilience, the College of Education, and Arizona Humanities.
Want to sponsor Grad Slam (an award area or the event itself) or have additional questions? Contact David Bradshaw at bradshad@email.arizona.edu for more information.
March 18, 2021, to April 10, 2021
Preliminary Round: VoiceThread Materials Review March 25 to March 31 (Announcement of Semifinalists March 31/April 1)
Semifinal Rounds: April 3, 2021, Zoom, 2-4 PM Arizona/Mountain Standard Time (MST)
Final Round: April 10, 2021, Zoom, 2-4 PM Arizona/MST (http://bit.ly/gs21finalround)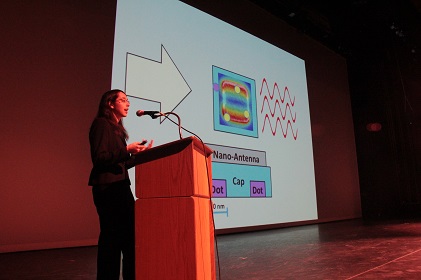 Grand Prizes, sponsored by the Office of Research, Innovation, and Impact:
1st Place Prize: $3000
2nd Place Prize: $2000
3rd Place Prize: $1000
Themed Awards:
Best Environmental Presentation, sponsored by the Arizona Institutes for Resilience: $1,000
To be considered for this award, your presentation should address how your work relates to environmental challenges in Arizona and around the planet and helps human or ecological communities better deal with those challenges. Examples include, but are not limited to, building community resilience to impacts of climate change, artistic expression of environmental knowledge, environmental communication, and environmental stewardship.
Best College of Science Student Presentation, sponsored by the College of Science: $1,000
To be considered for this award, you need to have a primary affiliation with a College of Science graduate program, and be presenting a project on any topic in science. Students pursuing dual-degrees in graduate programs in the College of Science are also eligible for this award.
Best College of Education Student Presenter, sponsored by the College of Education: $250
To be considered for this award, you need to have a primary affiliation with a College of Education graduate program (College of Education will confer your main degree when you graduate).
PLEASE NOTE: All Grad Slam awards are in compliance with Affordable Care Act rules. The awards are not counted toward work hours, and will be given to the winners either by check or disbursed through the winners' bursar accounts.
Grad Slam is a tournament style competition. Students initially present in the preliminary rounds. Two students from each of the preliminary rounds will be selected to move to the semi-finals. Then, the top three students from the semi-final rounds are selected to present in the Final Round for the grand prizes.
Grad Slam 2021 will be held virtually. The preliminary rounds will be facilitated through VoiceThread and the Semifinal and Final Rounds through Zoom.
All graduate students may compete
All presentations must be three minutes long or less
Students may present on original research or creative projects they are conducting for a thesis, dissertation, terminal project, or any other project they are working on. The project can focus on the development of new ideas, methods, or products, or it may focus on the application and revision of current methods or models. Student artists should focus on how their creative work applies to the broader exchange of ideas and the role the creative work plays in providing new perspective or in changing attitudes.
Presentations are to be spoken word oral presentations. Poems, raps, and songs in place of spoken word is not allowed, although an excerpt as part of the presentation is permitted.
Presentations may use supporting materials. If using slides, only 6 slides or less may be used, including the title slide. Slides must be in PowerPoint or PDF formats.
No additional props (e.g. costumes, musical instruments, laboratory equipment) are permitted.
Audio and video is permissible, but judging emphasis will be on the presentation.
Presentations are to commence from the stage.
Presentations are considered to have commenced when a presenter starts their presentation through either movement or speech.
The decision of the adjudicating panel is final.
Previous 1st Place Winners of Grad Slam may not compete in subsequent Grad Slam competitions
Prominent members of the University and Tucson community will serve as judges. Presenters will be evaluated on their ability to convey in a compelling fashion the value of their research or creative work to a non-specialist audience within the 3-minute time limit. Please download the Grad Slam Scorecard for more details.
Workshops and Information Sessions - Click here for a full schedule and listing of topics.
View the presentations of previous Grad Slam Finalists at the Grad Slam Videos Page.
Video: Panel on Engaging Academic and Non-academic Audiences featuring Director of Communications Stephanie Balzer of the UA Foundation, Assistant Bob Logan of the College of Science, and Vice Provost Tom Miller This video is temporarily unavailable.

How to Give a Killer Presentation: Lessons from TED by Chris Andersen, Harvard Business Review, June 2013
Giving an Academic Talk by Jonathan Shewchuk, Associate Professor in Computer Science, University of California at Berkeley
Giving Oral Presentations from English Communication for Scientists by Jean-luc Doumont (ed.), Nature (2010)
Presentation Zen by Garr Reynolds
Making the Most of Your Three Minutes for 3MT: The Three Minute Thesis by Simon Clews, Director, Writing Centre, University of Melbourne
10 Hints for Improving Presentations for the Three Minute Thesis Competition by Danielle Fischer, Charles Darwin University
TED Talks: A direct link to the TED talk site with the 0-6 minute duration selected.
PhD Comics Two-Minute Thesis: PhD Comics challenged graduate students to explain their work in two minutes – the best have been turned into videos!
3 Minute Thesis Competition Presentations: Top presentations from a multi-university thesis competition in Australia, New Zealand, Hong Kong, and the South Pacific